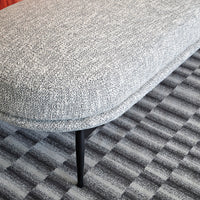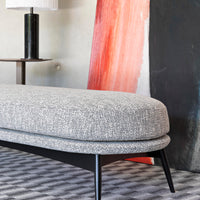 Oltremare Bench
Starting at

$2,930.00

CAD
Sale

• Save
Product Details
The seating collection "Oltremare" designed by Antonio Marras and produced in collaboration with Saba, stems from a far-away past and place, full of history, recollection, memories overflowing with suggestions and visions.
Oltremare encloses within its inlets the classic and the modern. The curve is a line that can be tamed: it forms a wave, a fold, it creates a place but it also offers an escape route. 
Dimensions
Width: 57.0"
Depth: 18.8"
Height: 15.0"

Important things to note
Customize
Select from a wide range of sizes, materials and finishes. We are here to assist with personalized services.
Availability
Ordered items may not be readily available in-store. Please contact us for more information.
Colours
Colours of materials + finishes will vary when viewing on different devices and may not be an exact representation of the product.

Please contact us for more information + if samples are available, we can send these to you to confirm prior to your order.

Lead Times
All lead times are approximate and can change without notice.

Production and transportation timelines are known to fluctuate.

Please contact us for more information if you require a specific delivery timeframe for your order to arrive.
All items have different lead times.
Got Questions?
Our design team is here to help.